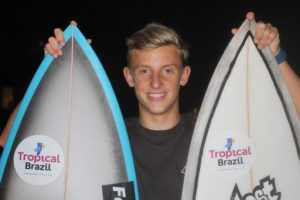 Oliver Willmette
Oliver Willmette, 17 years old. 
Hi my name is Oliver Willmette. I am 17 years of age and I'm from Cronulla beach in Sydney. I love waking up every morning to eat Tropical Brazil Acai knowing that I have started the day off fuelling my body with the tastiest superfood around that keeps me energised throughout the whole day. I have been apart of the Cronulla Point Boardriders for 2 years and the first year I joined I won the juniors division. I represented Cronulla Point Boardriders in the Australian Boardriders Battle team event where we didn't get the best result but beat our Cronulla rival which was still and achievement. The main thing that I look for in my surfing is travelling to find the best waves possible with mates which is something special that will never get old!
Cronulla Sharks Boardriders
Cronulla Point Boardriders
Favourite Surfer: Craig Anderson
Favourite Surf Trip: A
nywhere in Indonesia
Contest Results:
2017: 1st Place of the Juniors at Cronulla Point Boardriders.
2017: 7th at the NSW southern region titles.